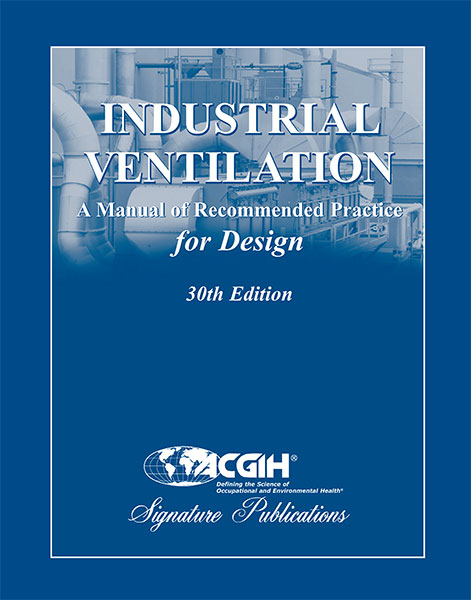 industrial ventilation manual 30th edition
industrial ventilation manual 30th edition
PUBLICATION YEAR: 2019
PAGE LENGTH: 680 pages
Now in its 30th Edition, changes in many of the chapters and conceptual figures that incorporate computational fluid dynamics (CFD) have been added for clarification and incorporated for simpler conceptual understanding of airflow patterns. Care has been taken to make this Manual a practical user's handbook, written with deference toward a simpler and more concise means of explanation.
In addition, the Manual incorporates a new control concept for vacuum extraction on welding guns to complement the four new conceptual design strategies found in the 29th Edition.
CHAPTER 1: RISK ASSESSMENT
1.2 Hazards versus Risks
1.3 Risk Assessment
1.4 Risk Assessment Process
1.5 Airborne Hazard Identification
1.6 Exposure Characteristics
1.7 Health Hazard Exposure Assessment
1.8 Hierarchy of Controls .
Industrial Ventilation: A Manual of Recommended Practice for Design, 30th Edition 2019
1: RISK ASSESSMENT
2: PRELIMINARY DESIGN AND COST ESTIMATION
3: PRINCIPLES OF AIRFLOW
4: INDUSTRIAL VENTILATION SYSTEM DESIGN PRINCIPLES
5: DUCT SYSTEM AND DISCHARGE STACK DESIGN PRINCIPLES
6: HOOD DESIGN
7: FANS
8: AIR CLEANING DEVICES
9: LOCAL EXHAUST VENTILATION SYSTEM DESIGN CALCULATION PROCEDURES
10: GENERAL INDUSTRIAL VENTILATION
11: SUPPLY AIR SYSTEMS
12: SPECIAL TOPICS AND TECHNIQUES
13: SPECIFIC OPERATIONS